Inbound sponsorship is the new playbook for the 21st century sponsorship seeker. A full blown digital methodology for the digital age. Learn how to Attract, Convert, Close and Delight premium sponsors today!
Sponsorship is a thriving industry
For your organisation identifying and securing sponsorship for your events and rights has never been more important and needed. According to Statista Sponsorship spend in Europe is predicted to reach in excess of Seventeen and a half billion US dollars (£13 billion +) throughout 2018, nearly a billion increase on 2017. Digital media has brought new properties rights to be sold and new platforms to deliver on. Your charity, event or service can now be shared live with hundreds of thousands if not millions at the push of a button gifting the rights holder the ability to drive a sponsors brand, piggy backing the back of that content.
...but sponsorship has changed!
If you think it is getting tougher to find new sponsors then you would be right. There are several reasons why. Many sponsorship seekers are working off an old school playbook trying to attract sponsors with meaningless metrics and logo positions. There has never been so much competition in the market with the number of registered charities at its highest levels and new digital properties flooding the space. Brexit has also put fear into international brands and hospitality has taken a knock with anti-bribery legislation. Finally, Facebook and Google have cannibalised the market by offering marketing departments unprecedented access to customer data and targeted campaigns.
Do you want a new playbook to revolutionise your commercial department? You've got the product and we've got the solution. Welcome to Inbound Sponsorship!
1. What is inbound sponsorship?
Inbound sponsorship creates an incredible sponsor-centric experience through targeted rights holder (yours) content and cutting-edge marketing software and strategies that helps you build relationships with premium leads. By approaching your sponsorship with the tried and tested Inbound methodology, you will identify and connect with targets, engage prospects through their interest and delight them throughout the process to close them as sponsors.
2. The Inbound Approach
When reaching out to sponsors are you talking about their needs or your properties? Help sponsors find solutions to their marketing problems by producing content valuable to them, and based on research designed to understand their motivations and curiosities. Pull them to you!
When a potential sponsor visits your site for the first time do you think they are ready to call your commercial team straight away? Probably not. Like in the real-world quality sponsorship partnerships develop over time so let's nurture them so they stick with you and do not turn elsewhere.
Sponsors will learn about your properties from numerous sources and channels. Let's find out where they hang out and take our solutions directly to their problems and them.
To measure how Inbound sponsorship will impact your organisation, we'll keep you connected and dig deep into the analytics to offer a three-hundred-and-sixty-degree view of where your sponsors are coming from, what they are interested in and how you should act next.
The industry leading software will help you manage, scale and deliver your services for your entire team. From automation to tracking and from chat bots to workflows it was built to make your lives easier and importantly give you the edge on competition.
Every organisation has its own identity and culture when developing its products, services and sponsorship properties. These become your unique selling point when it comes to engaging with sponsors through the Inbound system.
3. Inbound Marketing collides with Sponsorship
Does the inbound idea sound familiar? The term inbound marketing was coined over a decade ago to describe a new way of doing marketing.
The realisation was that while advertisers used to be in control, consumers were tuning out traditional, interruptive marketing and going online to find what they were looking for.
The marketing playbook was broken and so a methodology and accompanying software was developed to help businesses attract, engage, and delight their customers in this new world.
Today, tens of thousands of businesses globally use inbound marketing to grow and delight their customers. That's why the original inbound playbook is also the blueprint for our Inbound Sponsorship.
If you have been competing against the digital age, then now its time to embrace it and use it to your advantage.
4. Inbound Methodology
The graphic (right) shows the four stages of inbound marketing. (Learn more about each stage here).
In the sponsorship world, instead of attracting, engaging, and delighting customers, the goal is to attract, engage, and delight your prospective sponsors.
Borrowing from the inbound methodology, the inbound sponsorship methodology featuring the four stages of a sponsors journey, and the interactions they can have with your employer brand along the way. (Note the tools are listed under the action where they first come into play, but that's not the only place they're applicable! Several tools, like networking events and email, can be essential in several stages of the methodology.)
5. Inbound Sponsorship Methodology
When looking at this graphic, think about your organisations sponsor experience at each stage. How do sponsors first find out about your company?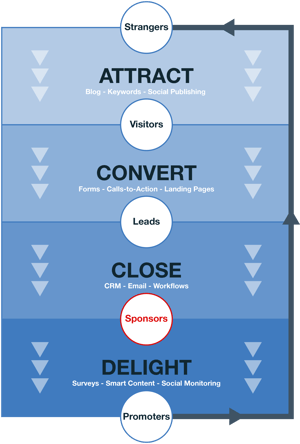 Attract: Maybe you create a commercial blog that pulls potential sponsors in, social media content that gets you on your targets radar or speaking at an event pointing prospects back towards your website and properties. Once someone has visited your website for the first time and consumed your targeted content, are there opportunities for them to engage and interact further?
Convert: Subscribing to your commercial blog or signing up for your free networking events are examples of converting that interest into action.
Entering into a sponsorship partnership is a big ticket purchase and needs deep consideration, so nurturing relationships with leads who have shown interest in your company is important.
Nurture and Close: Emailing your leads helpful content about your audiences, properties and culture, inviting them to events, or giving them the opportunity to talk to someone at your organisation through live chat are all ways to provide value in the decision-making process.
Lastly, how can you turn sponsors into promoters?
Delight: Sponsors have large networks and keeping them 'delighted' not only makes the renewal process easier but it also encourages them to become advocates for your properties and services to their peers.
Would you like to know more? Sign up to our blog or get in touch directly at info@txmsports.co.uk or click here and leave your details.