Many people have heard of inbound marketing but aren't familiar with how it differs from traditional online marketing. So, the question that might be on your mind is what exactly is the inbound methodology and what makes it unique?
Since 2006, inbound marketing has been one of the most effective ways of driving lead generation and customer engagement by providing prospects with high value and relevant content. Its principal purpose is to understand user experience (UX) and use these findings to help businesses nurture customers throughout their journey.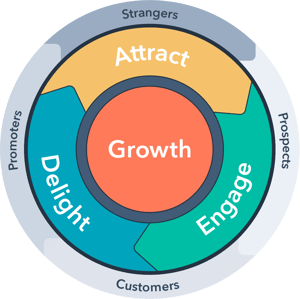 Inbound was created upon the notion that people don't want to be interrupted by marketers or harassed by salespeople, they want to be helped. Aligning helpful content with a prospect's wants, needs and motivations will inevitably lead to 'attraction' and thus starts a frictionless 'inbound' journey to your digital channels and potentially more leads. The goal then is to build meaningful, lasting relationships with these visitors, shifting them along the customer journey continuum and deeper into your sales funnel or onto your inbound flywheel (whatever method you prescribe to).
At Xtra Mile Marketing our foundations as a web design company are firmly rooted in inbound marketing. We believe that the principles of the inbound approach are multiplied when they are built upon a CMS framework with the core inbound tools already hard baked into its armoury.
Learn how to set your website up for success

Basically, we know the inbound approach is kick-ass for websites, and here's why:
The customer is at the heart of the inbound methodology so we'll start here…
1. Customer-centric
The inbound approach acknowledges that there's a lot more to customer-centricity than just offering standard customer service, it also means creating a great user experience (UX) from the awareness stage up until after the sale has been closed. When customers are at the core of everything you do, your business becomes top of mind to your customers; 86% of buyers are prepared to pay more for better customer service.
A website is the first salesperson a visitor will meet, and it can make or break an experience. If you've got an enjoyable, easy-to-use website that's aligned with your customer needs, wants and experience, you're likely to outperform competition. Luckily, this is the inbound speciality. Customer-centric websites contain enough information to create a seamless user browsing experience that sets a clear path for your prospects to complete the buyer journey.
2. Buyer Persona
Today, businesses need to have a good idea of who their consumers are and how to market to them. A buyer persona is a semi-fictional representation of your ideal customer based on market research and real data from your existing customers.
An inbound website design methodology uses learnings from this persona research and flips the traditional model of website design away from unique selling points and instead zeroes in on your customer's needs, through an engagement and a 'what's in it for the customer-led strategy'.
This approach has proven effective for businesses, 90% of marketers who use buyer personas understand their customers in a deeper, more meaningful way. Likewise, research has found that using buyer personas can make websites up to 5 times more effective, as touchpoints and content are optimised based on buyer personas to successfully nurture customers through the buyer's journey.
Buyer Persona development can fuel your entire marketing strategy for a year - learn how

3. The Buyer's Journey
The key to a successful inbound website strategy is the buyer's journey. To properly categorise your contacts, leads and customers and move them through the sales funnel it's crucial to know the difference between each stage and what triggers a move from one stage to another.
The 'digital touchpoints' in the buyer's journey play a crucial role in an overall sales strategy, as website and social media channels are often the first places your visitors will research your business. With this in mind, you must be set up with a strategy built to engage your audience, no matter what stage they're at in your sales cycle.
There are 4 foundation stages to the buyer's journey (plus a couple of 'xtra' stages to consider):
Stage 1: Visitor/stranger

A buyer is trying to solve problems, get an answer or meet a need. They're looking for top-level educational content to direct them to a solution, like blog posts, social media content or eBooks which can push them further down the funnel to become a prospect.

Stage 2: Prospect/lead

Usually at this stage buyers have clearly defined their goal/challenge and are committed to addressing it and evaluate different approaches. Offering a prospect valuable content in return for a piece of contact information (usually an email address) will convert a prospect into a lead. This is the stage in which calls to action (CTAs), landing pages and forms come into play.

At this point the nurturing process goes to another level (see optional 'xtra' stages below) to drive trust and confidence in your company's ability to solve the prospects problem or problems.

Stage 3: Customer/client

Closing a sale isn't the end of the line. Research claims that it can cost five times more to attract a new customer than it does to retain an existing one. Feedback forms, email, web, social engagement, social monitoring and smart content are used at this stage to encourage customer loyalty and create promoters for your brand.

Stage 4: Promoter/fan

Cultivating a relationship with your customer beyond the sale can lead to higher customer lifetime value as well as word-of-mouth referrals and more. Ideal channels used to delight customers and create an experience beyond customer expectations include email marketing, live chat and chatbots, loyalty programmes and more.
Optional Xtra Stages:
You can add or take away as many buyer journeys stages as your customer trends deem appropriate. At Xtra Mile Marketing we add these two below between stage 2 and 3 to help us understand better where our prospects are, so we can prepare and create content specifically for their needs.
Stage 2.1: Marketing qualified lead

Things start getting serious at this stage. Marketing qualified leads (MQL) are most likely to become customers, based on which web pages they've visited and what they've downloaded and engaged with. It's critical to nurture MQL's to become a sales qualified lead (SQL) through offers, case studies, samples, expert guides, comparison whitepapers, video content and more.

Stage 2.2: Sales qualified lead

Generally, this lead has expressed enough interest in your product or service and is ready to talk to your sales team. SQL can be nurtured through the funnel to closing a sale with email optimisation, CRM systems and workflows.
4. CMS Hub
HubSpot's state of the art CMS Hub is the platform that ties both inbound and Growth-Driven Design (GDD) together and is perfect for growing businesses. CMS Hub's hard-baked features birth powerful websites that're constructed to sweat and earn back the money you spend on them. A GDD approach means launching at speed and then you have the data feedback to drive regular customer trending updates, helping your website evolve.
Recently, the game has changed, and your website should no longer be a digital brochure. To remain relevant to your audience it should adapt to the ever-shifting trends. Much like a salesman reacting quickly to the needs of a lead, websites built on CMS Hub are flexible and can adapt quickly to solve the problems of visitors, stay responsive to changing trends in the market, enhance user experience (UX) and help users with their decision making.
In reality it could be the LAST website you'll ever need.
Better website approach, better lead conversions! Learn how