2020 was the biggest year of digital growth we've ever experienced. Due to the pandemic we all got sent home and we all got online. We bought, we sold, held 'Zoom' and 'Team' meetings, we marketed, we socialised, and we immersed ourselves in all things digital. Everyone from our 4-year-olds to 84-year-olds became digitally literate.
The Drum reported online usage in the UK increased on average a full hour a day up from 2019, and Smartinsights reported social media usage increased a massive 43% during lockdown. This probably doesn't come as much of a surprise as we found ourselves at home and for many the internet became a lifeline to the world.
Another thing that became apparent for many business owners as they surfed their competition's social media channels and websites was how their own platforms and channels were struggling to keep pace and were underperforming.
New clients came to us with comments like: "I know we need a website, but it doesn't seem to offer anything to our business, and trends move so quickly its style becomes irrelevant, leaving us looking outdated" and "We paid tens of thousands of pounds and it just sits there constantly needing updates, fixes and new plugins. Before long we're doing more maintenance than sales and marketing".
The shift has seen a movement away from the traditional website acting like an online catalogue, to your digital channels becoming an active member of your sales team. High quality content attracting the eye of visitors to enquire further, drawing them in and leading them to your website, which acts like your showroom.
We all know that an income generating show room should have sales staff (now sales software) prepared to roll their sleeves up, work hard to be engaging to your visitors and bring your brand and vision to life.
But what do we mean sweat? We promote the philosophy that a website should work hard, and can evolve with customer trends; keeping it relevant and adapting to the needs of the target audiences.
If you apply a Growth Driven Design (GDD, we'll explain later) methodology using Hubspot's CMS Hub (again we'll explain later), you can have a website constructed that can earn the money you spend on it, launched at speed and then have the data feedback drive regular customer trending updates. Much like a salesman reacting quickly to the needs of a lead, a website should be flexible enough to adapt quickly and solve the problems of your visitors, enhancing their user experience and helping them with their decision making (purchasing your services).
So, how do you make your website a working member of your company?
In this blog we've outlined 24 key discussion areas and tools you will need to bring a website to life. To make your life easier we've broken this down and anchor linked the contents (just click on each chapter to skip to that section) into the main three sections covering:
Hard Baked

Buyer Personas

Style

GDD

Speed
Contact Database (CRM)

Digital Offers

Chatbots & Autoresponders

Calls to Action

Landing Pages

Automated Data Forms

Automated Email
CRM

Content Management

Mobile Optimised

Email (Direct and Automated)

Blog

File Storage

SEO

Reporting

Dashboard Analytics

Personalised Content

Security

Reliability
How's your website performing? Claim a free audit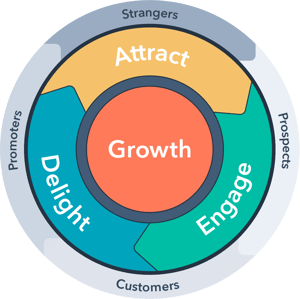 WAIT! Before you go any further and so as not to waste your time. We believe it's important for you to understand, our foundations as a web design company are rooted in Inbound Marketing. We're not your traditional website development company rooted in web development coding, we're driven by marketing, and methodologies that focuses an entire digital ecosystem to revolve around your customers, their pain points and what's in it for them. Put plainly we design and launch kick-ass marketing driven websites to help your company grow.
The HubSpot Inbound flywheel model is a world leading content marketing approach designed to help companies grow by: attracting visitors, engaging with them to become prospects and leads, offer them solutions to become customers and then delight them so they become promoters. All we've done is taken the same principles and applied them to website design; offering our clients a seamless flow throughout all of their digital channels built to ATTRACT, ENGAGE, CLOSE and DELIGHT!
That's enough about us so let's get into the really top line important stuff you need to know if you want a website set up for success to help your company grow:
If you thought, making a website sweat sounds like there'll be a lot of moving parts then you'd be correct. Often websites can struggle as multiple plugins stop working together due to updates and/or business growth and needs. Leaving you with maintenance migraines rather than focussing on what you do well marketing, selling and driving your business.
What you need is a single software system built with everything you require hard baked together and housed under a single roof. The benefit of HubSpot's CMS Hub is this is what they've designed and deployed. They dove deep into their data and in particular the needs of growing companies to identify the key functional components (as described below in Your Functional Tools) every growth company website should have. So, whether it's: blogging, data capture and management, chatbots or reporting and analytics, everything you need is pulled into this single source solution, accessible 24/7 at the push of a button.
As described earlier the flywheel models keep your customer as the primary focus. A buyer persona is a semi-fictional representation of your ideal customer based on market research and real data about your existing customers. An Inbound website design methodology use's learnings from this persona research and flips the traditional model of website design away from a company's unique selling points and instead zeroes in on your customers' needs, through an engagement and a 'what's in it for the customer' led strategy.
This proven approach is born out of understanding the customer journey, first as a stranger to your services or brand, then helping them to become a prospect or lead, closing them as a customer and finally supporting their needs so they become a promoter and influencer for your growth.
These customer journey 'digital touch points' now play a crucial role in an overall sales strategy because your website and social media channels are often the first-place visitors will research your business. So, it's crucial you're set up with a digital strategy built to engage your audience, for whatever stage they're in, in your sales cycle.
To learn the what, why and how of all things Buyer Persona development

The saying goes 'You only get one chance to make a first impression' so it better be good!
There's a lot that goes into well-functioning websites like search, performance and mobile optimisation, security and reliability (we'll look at the finer functional detail later in this blog) but when it comes to first touch user experience, we've identified 3 key stylistic areas that are a complete must, for your website:
First it really does need to be visually pleasing. Your website showcases your brand, it can explain how you feel about yourselves, how you position your services in your market and communicate quickly whether you take yourself seriously. A visually poor website as a first touch point for a prospect can turn them off quickly and allow them to slip from your grasp.
The second point is related to the first: make sure your content, layout, design graphics etc… are relevant to your market. You can dress every page with graphics of kittens and puppies, and it would probably get you a lot of pet loving traffic, but if you're in the automotive trade (I know an extreme analogy, but you get our point) you're probably not going to get many 'leads' (forgive the pun).
Following on from the first two points we'll finish with: a website needs to be easily navigated. It's been forecast that digital user experience (UX) will be, if it isn't already, the biggest driving factor for business growth this decade. Understanding your buyer's needs and helping them to easily reach the conclusion that you've the solution they need. No, the solution they want. No, the solution they absolutely must have! will mean your website will need to have the tools (like chatbots, autoresponders, navigation bars, page layout and more) and the layout to help them reach their goals.
A GDD website and process is designed to evolve with the goals of the company and to adapt to the changing trends of its market and customers. As such for many companies it could be the last website they'll ever need. GDD is a structured system where one activity follows the next to achieve success.
There are three stages to a GDD designed website:
Stage 1. Strategy development

We dive deep to review where you've been and where you want to go. We research your target audience(s) and what motivates them and then pool all of the findings to inform our design and layout strategy.

Stage 2. Launchpad

Taking the learnings from the strategic review, we quickly develop a cutting-edge launch pad website that's ready to make impact and built to evolve.

Stage 3. Continuous improvement

We apply an inbound methodology to run regular internal 'sprint' reviews and iterate and improve your website. We drop things that don't work, sweat those that do and add altogether new elements.
As explained earlier our aim is to build websites that don't sit parked on your company's 'digital shelf' for a few years before becoming out of date and you need an entirely new rebuild.
The GDD methodology means the website you start with isn't going to be the same website 3 months, 6 months or even a year down the line, it'll move with your needs. These moving parameters mean you don't want a website that you assume is perfect, you should want a website that is in pursuit of perfection, because perfect is an ever-moving goal in the digital world. As trends change so do the needs and expectations of your customers.
So, with HubSpot's state of the art CMS, its drag and drop modules, and all of the functionality and performance hard baked in we're able to build at speed. The average build time for a website with as much functionality as what CMS Hub offers can traditionally take between 3-6 months.
We'd look to launch a new state-of-the-art website within 4-6 weeks turnaround and then using feedback and data, deploy regular iterations, improving everything as we go along and grow your business.
Ready for a chat to explore what our digital transformation kit can do for you
?

Lead Generators
Once upon a time limited technological advances meant websites were not really used to help a business develop their sales pipelines. Most often they were used strictly as a digital brochure for promotion and not thought of as an integral part of the entire sales cycle. Then along came HubSpot with their Inbound marketing methodology and software and the game changed.
By focussing on the customer experience, we're able to understand the multiple opportunities available to help a visitor find a digital answer to their problems, and at these touch points use engagement and support to build a relationship and trust with them, moving them from visitors to leads.
To offer the best solutions and speed throughout the engagement process HubSpot brought together a huge suite of top-line functional tools. Data has proved is crucial in the development of lead generation and they hard baked it directly into their software. Every tool described below in this blog is already built into HubSpot's CMS Hub Professional and Enterprise platforms.
This is why we it's the most powerful software package for growing SME businesses to build their digital presence upon on the planet. Below we've pulled out the top 7 CMS Hub lead generation and sales tools our clients have said work best for them:
37% of the most successful teams recognise CRM software as important in organising and storing leads. HubSpot's first class CRM is one of the company's superpowers and a leading light in automated collection and storage of important customer and prospect data.
You can set up automated advancement through your sales cycle when a contact makes a specific action on your website, moving themselves through the multiple lifecycle phases: Subscriber, Lead, Marketing qualified, Sales qualified, Opportunity, Customer and Evangelist. Allowing you to be hands off and only help out if someone needs a nudge.
You can also track and monitor all of your contact touch-points and add additional notes and information as and where you need. You'll see what services or pages your contacts have been interested in, how they arrived and how long they've spent on those pages, offering you powerful insight when it's time to reach out with that 'helpful nudge'. With Hub CMS's CRM you'll never be caught uninformed!
2. Digital Offers
(case studies, white papers, industry reports etc)
Lead generation offers are crucial for the engagement process and the fuel for lead generation. It's a simple transactional activity: your content or offer, for their data. From this point moving forward the relationship can then go to another level and they potentially move onto another lifecycle phase in your CRM.
This exchange gives visitors free access to meaningful and relevant content that helps them and gives your business a new lead. You can create offers for every lifecycle phase from industry white papers and blog newsletters for subscribers and new leads, through to free trials or audits for sales qualified or to close as customers. All offers should be easily accessible and can be stored and accessed at ease at any time from the CMS's file storage platform.
People looking for answers don't like to wait. With chatbots and autoresponders they no longer have to. Get your sales team to speak to prospects when they're hot and use autoresponders to help you validate the true leads from the tyre kickers.
80% of businesses claim they currently use or are planning to use chatbots and autoresponders in the future. These methods are completely transforming lead generation and are used to make websites interactive and to generate leads.
Due to an 80-90% open rate and a 20-30% click-through rate, both chatbots and autoresponders can be highly effective in delivering your messages to the end customers.
If there was a 'secret sauce' to digital lead generation it would be the three most important tools a website can call upon: Landing pages, Data Capture Forms and always starting with the little cheeky attention seeking Call-to-Action (CTA).
Research highlights that a simple homepage CTA can make up to a 50% increase in B2B lead generation. With this stat in mind, it's astonishing that 70% of SME websites lack a CTA on their homepage.
Often found as a button or highlighted and linked text, all CTA's are created to grab your attention and encourage you to follow it to the next important lead gen tool the 'Landing Page'…
In plain speak: landing pages are just web pages but unlike normal pages that encourage exploration or education, landing pages are stand-alone pages created for the single purpose of achieving a goal. That goal is often driving leads through data capture.
Deployed correctly, landing pages can be a powerful tool for your growing business. Research has proved the more landing pages the better. HubSpot has reported companies that have increased their number of landing pages from 10 to 15 have seen a remarkable 55% increase in leads.
Not all things are created equal, so when we design and deploy a landing page, we'll leverage a host of 'best practice' style and design layout tricks to help increase leads whilst at the same time enhancing the user experience and increasing their satisfaction.
There's one last step you need to embrace to have the perfectly working lead generating trifecta and that's the 'automated form' where your visitor will leave their data…
The final superpower in the trifecta has to be the automated data form.
74% of companies use web forms for lead generation, and nearly half of marketers claim that web forms are their highest converting lead generation tool.
Integrated web forms should send visitor information directly into your CRM system, becoming a very effective way of collecting contact details whilst at the same time collating feedback. This is integral to helping inform your sales team on crucial information about the needs of your prospects.
You may also add form fields that will help you filter the quality of leads you have allowing you to segment them into sales pipelines and help you focus on the hot leads as opposed to the tyre kickers.
You could argue that the trifecta above should have another tool added; the automated email. The importance of this is truly 'after data' care and reinforcing to the new contact that what they have left their data for is of high value.
The automated email can send them a quick thank you, the offer they've left their data for, a receipt of acceptance, further high quality offers and more.
72% of individuals prefer to receive business communication via email, which indicates the popularity of using this method to generate leads. With the right strategy and practices, automated emails can turn out to be a perfect lead generating tool.
You could consider responding manually but, take it from us, when the volume starts to increase all of the automated tools hard baked into HubSpot's CMS make it so much easier to focus on dealing directly with the warm and hot leads rather than wasting time on writing and sending emails.
Website not looking or performing its best? Claim a free audit

Your Functional Tools
Now for the nuts and bolts!
Of course, we know every business is unique and will have their own 'secret sauce' and we also understand the channels and tools needed to get your 'secret sauce' safely and reliably to market can be wide and varied.
Over a decade ago HubSpot realised that there was a need to create a software solution that could help companies solve their marketing and sales needs from a single source. This led to the development of their industry leading Inbound Marketing software solutions.
Identifying a similar need for web development, 2020 saw HubSpot breathe new life into their CMS Hub, combining many of their top Inbound marketing tools and 'hard baking' them directly into the CMS platform. Offering companies looking to grow and take their business to a new level a solution to store contact information, create and launch marketing sales campaigns, store files, automate communication and just so much more.
Below you'll find a brief description of some of the top performing tools you'll find in CMS Hub that data tells us is having the biggest impact on our clients:
As mentioned earlier in this post, CMS Hub comes with HubSpot's industry leading CRM, so you can easily keep track of your website visitors' engagement throughout their journey.
A CRM is no longer a nice to have it's a must and becomes your special superpower when it completely integrates with all of your website's relevant tools. Used properly CMS Hub's hard baked suite of applications will help your company streamline its processes, maximise customer communications, increase sales, improve customer experience and ultimately increase profitability.
One of the most significant challenges that business owners face is having structured, planned and fresh content. 38% of individuals will stop engaging with a website if content is outdated and unattractive.
That means that it's essential to have the means to take control of your content, quickly and easily update it, change or delete any images, blog posts, video, page copy or audio. Meaning that your site is organised, up to date and looking on point.
23% of SME business websites get updated less than once a year, so a content management system not only saves costs and the time of all stakeholders but can also act as a competitive advantage for your business and be highly beneficial for SEO.
CMS Hub's content management system is built for ease of use but if content marketing isn't your thing then let us do the heavy lifting for you, as we cover all things marketing from strategy to deployment for Inbound, Straight Content, Social Media all the way through to Account Based Marketing.
Recently Statcounter published their UK findings for mobile devices vs desktop reporting that from December 2019 to December 2020 mobile devices enjoyed a slight edge over their physically larger counterparts, desktop computers. Reinforcing something that we all know: mobile optimisation arrived, it's needed, and it's here to stay.
There's nothing more frustrating to a new visitor exploring a website that's not optimised for mobile, with CTA buttons too big or small or images taking too long to load. These issues often leave your brand looking unprofessional and thus untrustworthy and visitors leaving your website in droves.
Enter CMS Hub's responsive page design. This brilliant feature allows design to be customised when it appears on a mobile device. Within the page editing software, we'll simply toggle a switch to mobile on the desktop page being constructed, and it will automatically reformat the page to show how it will be displayed on a mobile device. If we're not happy then we can choose to hide specific modules or add custom padding or spacing that only appears when your page is viewed on a mobile device.
Email is a powerful tool that 76% of UK businesses class as important. This comes as no surprise because 8% of businesses attain more than 50% of their sales through this method. This is because email is highly effective in reaching prospects and customers; visitors who receive automated emails are 42% more likely to make a purchase.
Reaching the right audience at well-timed moments through automated emails can drive website traffic. Likewise, direct mail can attach legitimacy to your brand, building brand recognition and trust. When used correctly, both methods can help you to grow your business and generate a healthy ROI. But it's not easy to gain success through email marketing without a website. Websites are brilliant at bonding all digital channels together
Consistent blogging is a hugely effective way to build brand awareness by providing relevant and useful content that engages your target audience. Companies that blog get 55% more website traffic and 80% of businesses who regularly blog acquire more customers. Blogging can positively impact website SEO, enhance customer and industry perception, and support your business' growth.
Blogging is often the fuel needed to feed your social media channels, and a great way to share highly relevant and contextual content with target markets. Marry your content output with your analytics (below) and feedback and you can then find out what post themes and subjects resonate with your audiences, then just stay in those 'lanes'.
CMS Hub presents you with file storage capabilities. This gives you a straightforward way to access your files and share them with others. Additionally, once you've uploaded files it can organise, edit and delete them or insert them into your content and pages. This not only reduces the burden on your hard disk but also keeps your documents safe from hazards with better first-class reliable security.
The purpose of SEO is to improve your website's overall search-ability and visibility and therefore make it rank highly in search results. High ranking is essential to increase organic website traffic and SEO can drive up to 1000%+ more traffic than organic social media. This creates more opportunities to generate leads and sales. Research highlights that SEO leads have a 14.6% close rate.
CMS Hub will only allow you to publish pages that have been search engine optimised, meaning your content and pages will always be search engine friendly.
We've said it before and we'll say it again, we don't build websites that sit on the shelf and gather dust. For all of your company's assets to sweat, including your website, you need to understand how it's performing. At the touch of a button, you can access detailed reports for every one of your marketing assets, including website pages, landing pages, social media accounts, CTAs and more.
In your business, many moving parts impact your overall performance. Dashboard analytics summarise your most important business data from different sources all on one screen. This makes analytics easy to read and understand. Helping you make informed decisions, without the hassle of using extra tools, different platforms and tracking codes.
Personalising your content can create a unique experience between an individual and your brand and this method is more likely to boost engagement across your website. Other benefits noted by marketers include improved customer experience (55%), improved brand perception (39%), increased conversion rates (51%) and increased lead generation and customer acquisition (46%).
Around 30,000 to 50,000 websites get hacked every day, so the power of website security shouldn't be underestimated. As a SaaS CMS with a globally hosted CDN you get 24/7 threat monitoring, web application firewall and an automatically maintained and updated system. So you don't have to worry about the security of your website.
The HubSpot CMS platform is incredibly reliable with a global CDN (Content Delivery Network) and this makes it an especially attractive option to many. A consistent and dependable website is one that looks coherent and works harmoniously across its different elements, giving your users a more positive experience. CMS Hub enjoys a Content Delivery Network (CDN) with 99.99% uptime.
And more…
Want to know a little more detail about how Xtra Mile Marketing use the latest methodologies to attract, engage, convert and then delight customers?