So, you've done the hard yards, rolled your sleeves up, bent your back, built your business and are ready to do anything Xtra to take it to the next level.
You've probably realised that maybe your digital channels aren't as good as they could be, because you want a website that is smart, reactive to your audience, built to evolve with your business and is driven by lead generation. We'll be honest, to have a website with this much functionality you'd expect to find a good deal of moving parts, meaning maintenance and management migraines.
BUT what if we told you everything you needed could be hard baked into a single solution Content Management System (CMS)?
HubSpot's state-of-the-art CMS Hub is a single software system built with everything you require hard baked together and housed under a single roof. These hard-baked features birth powerful websites that are constructed to sweat, grow traffic, generate leads and become your hardest-working employees - leaving you to just focus on growing your business.
Turn your website into a lead generating machine

In reality, a supercharged website built on CMS Hub could be the LAST website you'll ever need, and here's why:
As your CRM is critical for generating leads, we'll start with this…
1. CRM
A CRM is no longer a nice to have, it's a must and becomes your special superpower when it completely integrates with all of your website's relevant tools. 37% of the most successful teams recognise CRM software as important in organising and storing leads. HubSpot's first-class CRM is a leading light in automated collection and storage of important customer and prospect data.
Automated advancement can be set up through your sales cycle when a contact makes a specific action on your website, moving through the various lifecycle phases: Subscriber, Lead, Marketing qualified, Sales qualified, Opportunity, Customer and Evangelist. This allows you to be hands-off and only help out if a prospect needs a nudge.
Contact touch-points can be tracked and monitored in HubSpot's CRM, with the option to add additional notes wherever needed. Services or pages that your contacts have been interested in, how they arrived and how long they've spent on those pages, are available at any time within the CRM, offering you powerful insight when it's time to reach out with that 'helpful nudge'. Not only does this guide prospects through the various lifecycle phases but gives visitors a unique and personalised experience too. With Hub CMS's CRM you'll never be caught uninformed!
2. CMS: Page builder, blog, file storage, CTA's, smart forms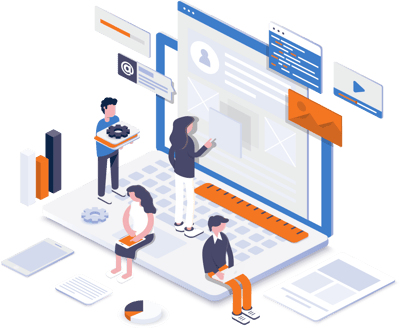 When it comes down to optimising your website for lead generation, HubSpot CMS is your main man. CMS Hub is the first, and only, CMS system on the market that combines website creation with the power of a CRM to customise the entire buying journey and build better relationships with prospects through content and conversions.
Your website is the face of your brand, so whether an important customer is stopping by, or a first-time visitor, you need to give them relevant and personalised information. This is CMS Hub's forte; by using this all-inclusive connected platform, you can create personalised content for visitors based upon data from your HubSpot CRM, to create a seamless customer experience, evolve strong relationships and push prospects further down the buyer's journey.
Creating and managing web pages, blog posts, landing pages, smart forms, CTA's (or even redesigning your entire website) so that they're personalised for different visitors AND optimised for devices and conversions has never been easier. With CMS Hub all of this requires just one tool, allowing your website to stay on-trend, drive leads and attract customers.
Find out whether your website's performing like a rockstar or a rock!
Get your free website audit
3. Analytics and Bespoke Dashboards
In your business, many moving parts impact your overall performance. With HubSpot CMS, analytics are built into everything you do. Dashboard analytics summarise your most important business data from different sources all on one screen, making data easily accessible.
HubSpot's built-in analytics and reporting allows you to gain insight into which pages, offers, ads and traffic sources are driving the most conversions. Analytics log your leads' activities, so you can see how many times they visit your website before buying, spot trends in how your site is navigated, and use those insights to drive more conversions.
With HubSpot's integrated analytics, you'll have all the data you need to make informed data-driven decisions that will help your business grow, without the hassle of using extra tools, different platforms and tracking codes.
4. Chatbots and Autoresponders
People looking for answers don't like to wait. With chatbots and autoresponders, they no longer have to. Get your sales team to speak to prospects when they're hot and use autoresponders to help you validate the true leads from the tyre kickers.
Chatbots and autoresponders aren't just some far-fetched, futuristic technology, they can be an ultimate game-changing tool in your lead generation efforts. Even when you're not in the office these tools can engage and converse with potential leads, are highly interactive, and have an 80-90% open rate and a 20-30% click-through rate, meaning they're extremely effective in delivering messages to the end customers.
Therefore, it's no surprise that 80% of businesses claim they currently use or are planning to use chatbots and autoresponders in the future. These methods are completely transforming lead generation and are a powerful tool in making websites interactive and generating leads.
And so much more….